Page 1 - Clarion January 2018
P. 1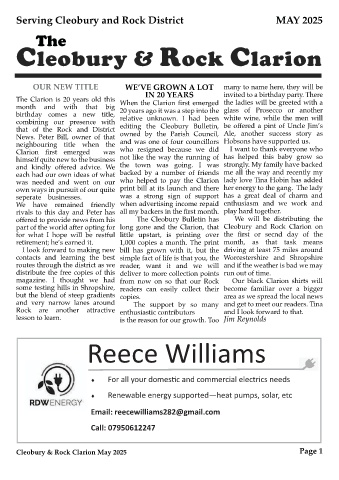 The
          Cleobury Clarion






          SERVING CLEOBURY COUNTRY                                                       January 2018



              THE BEST THING                unknown   snow   sculptor   who         MORE ABOUT
                                            gave the town a bear to watch
            FROM THAT SNOW                  over   the   churchyard,   to   Town   SELFISH PARKING

                                            Clerk Matt Sheehan and Roger      A   reader   stopped   me   and
                                            Potter getting their shovels out   thanked me for pointing out the
                                            and   digging   a   pathway   along   selfish   parking   at   the   Medical
                                            the   High   Street   from   Lloyds   Centre.   Then   explained   that   a
                                            Bank   down   to   the   pedestrian   greater problem is the modern
                                            crossing and across to the Post   habit   of   parking   on   the
                                            Office. One of the final gestures   pavement.
                                            from   Mark   and   Myfanwy            She is quite right. She had
                                            Baldwin   as   they   cleared   out   recently   had   to   push   a
                                            their old bookshop was a notice   wheelchair out into the road to
                                            praising Matt for the extra hours   get around a car that was on the
                                            he   put   in.   Such   a   refreshing   pavement. Some of the stupidity
                                            change from the dreadful stuff    of   people   blocking   the
                                            we   used   to   see   from   another   pavement on routes to both our
                                            source…                           schools   simply   makes   walking
                                                 With local restaurants busy   more   dangerous   for   children.
          The Snow Bear that looked out over  with   Christmas   bookings,   the   Don't they matter any more?
            the main street from the church   problems   of   getting   supplies         This   is   not   a   selfish
                      grounds.              through was quite a headache.     community;   the   response   to
          The combination of heavy snow  And spare a thought for Simply       appeals for funds to help those
          and freezing temperatures over  Fresh,   waiting   for   a   delivery   in distress shows that to be true.
          the December 9/10th weekend  from   wholesalers   Palmer   and      So   why   should   we   tolerate
          gave   the   whitest   winter   scene  Harvey,   only   to   hear   this   this   selfishness that puts people in
          we've had for years. So soft and  major wholesaler had closed its   possible danger?
          lovely   to   look   out   on   in   the  doors overnight.               Let's shame the selfish. The
          morning   for   those   who   didn't       Away   from   the   predictable   Clarion   will   print   a   photo   of
          have   to   go   to   work,   but   not  warnings   not   to   travel   unless   selfish   parking   every   month,
          much fun for those trying to get  absolutely essential, we all got   with   the   registration   number
          somewhere on time.                on with life and found that it's   legible.   And   we'll   pass   the
             It brought out some of the best  not necessary to go out driving   picture   on   to   the   police,   who
          in   local   people,   from   the  every day. So quiet, too.        have the power to act on such
                                                                              offences. Watch this space.     JR



                                                             Oak Ridge Total Dog Care
                                                     Oak Ridge, Mawley, Cleobury Mortimer, Shropshire, DY14 8PT

                                               A family run business dedicated to the care and well-being of your four-legged
                                                       family members on the occasions that life gets in the way.
                                              Our Doggy Daycare provides a fun and safe kennel free environment for your dog
                                              to play and interact with other dogs. With a daily activity program, we cater for all
                                              of your dog's needs giving them the care, stimulation and attention they require.
                  Tel: 01299 211977           Doggy Daycare open from 7.30am-6pm, Mon-Sat (late pick-up options available)
            www.oakridge-totaldogcare.co.uk  Rates from £10.00 per half day. Discounts available for multiple & regular bookings.